Save money and your sanity while shopping
Posted on January 22nd, 2010 by Sharon
I spent a large chunk of my day going to five different thrift stores looking for deals. By the time I was finished, I realized that I have a pretty good system when it comes to finding good stuff without going crazy.
I always look through the housewares. I'm trying to decorate my home so for me this is a must. You never know what you'll find. Although I do have to warn against going crazy! Before you buy a decorative item, you should know exactly where it's going to go. For example, I found five matching silver frames (from Ikea) for only $1 a piece. I don't know exactly what's going to go in them, but I do know exactly where they're going to hang.
When it comes to clothes, know what you're looking for! This takes out a lot of the headache unless you really like browsing through all those racks. When I buy clothes, what I buy replaces something I own. Today I was looking for a pair of jeans, a brown belt, and some cute brown heels. I did find some great jeans to replace a hole-y pair at home plus a cute houndstooth hat, matching bangle, and a pair of khaki cords to replace some khakis that don't really fit right. I even texted a picture of the hat to my two best girls to make sure I wasn't alone in the fact that it was cute!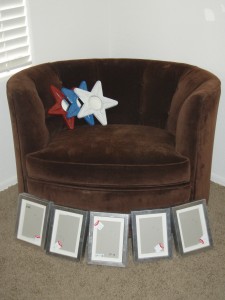 I even found a couple of brown corduroy chairs for only $5 a piece. I plan on putting each in an office. One will go in mine while the other will go in my husband's. I sat in them, looked them over for stains and holes, and even checked out the under side and feet. I liked the chairs (and price) immediately, but I still made sure they were worth taking home and had a place to go.
In summary,
Make sure your decorative item or piece of furniture has a home before it gets to your home.
Know what you're looking for, especially with clothes.
Make sure the item is unique or replacing something that no longer fits or suits you.
Only take something home if you really love it.
For those of you who live near me, I visited Assistance League of East Valley Thrift Store, St Vincent de Paul Thrift Store, Savers, Goodwill, and Hidden Treasures. I've reviewed some of them on Yelp but found great things at each of them except Goodwill. You can check out my list of thrift stores on my Google map.
Do you know of other thrift stores worth checking out? Do you have any shopping tips? Please, leave a comment below or follow me on twitter here.