Disneyland
Posted on December 22nd, 2009 by Sharon
I love Disneyland.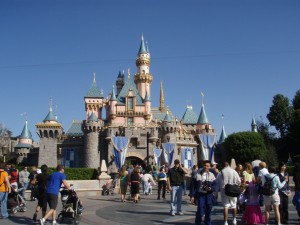 Before October of last year, however, I had never been. I love the story of how my very first trip happened too. My husband and I were having dinner with a friend on a Saturday evening, when he asked if we had any plans for the weekend. We didn't, so he asked, "You wanna go to Disneyland?" We left later that evening with one other friend in tow. That was the awesome start to our year long tradition. That first weekend, we drove up on Saturday night, got a hotel room, spent most of Sunday in the Magic Kingdom, and drove back to Phoenix. Almost every weekend has followed suit except for the fact that we'd leave on Friday nights and come back on Sundays. The decision process hasn't changed much either. In the last 14 months, my hubby and I along with many different friends (and usually that very first one with the brilliant suggestion) have made the trip to Disneyland 9 times (a few weekends were multiple days in the parks). It may not seem like much but when you factor in the six hour drive each way, it shows some serious dedication.
I've noticed (especially lately) that I've become pretty obsessed. I love the history, stories, photos, changes, and whole experience of Disneyland. I can talk about it endlessly if no one stops me and am happy to share every little fact I know. I get childishly excited each and every visit. I still get butterflies before riding California Screamin' and am amazed each time I go Soarin' Over California. I'm convinced rides are faster at night and can pretty easily call Big Thunder Mountain Railroad my favorite ride.
What I really love about Disneyland is the different people it attracts, especially the way that our trips are planned. It's shown me who's willing to come out on short notice which has translated into friends I can count on. I've met new people and instantly bonded as well as making deeper connections with those I already know. It's been a fun year, and I'll be more than a little sad when my Annual Pass expires in April.
If you're interested in experiencing the magic, check out their give a day, get a Disney day program.
I'd love to hear about your experiences regarding Disneyland. And if you're interested in a trip before April, I'm always in!