A Christmas Carol
Posted on December 10th, 2009 by Sharon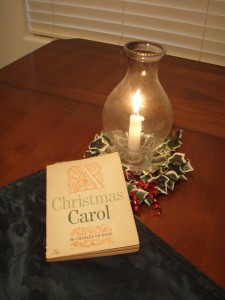 Everyone knows the story of A Christmas Carol by Charles Dickens. It's been made and remade probably more than any other story that's been turned into film, but have you ever read it?
Ever since high school English, I've had my issues with Mr. Dickens, but I'm trying (again) this year to read A Christmas Carol in its entirety before Christmas Day.
My favorite movie version of A Christmas Carol is from The Muppets. I have gotten a little into the book and was really surprised how much I could quote because of how many times I've seen that movie.
My major reason for stating my intentions is for a little conversation and a little accountability. You should be able to keep up with what I've read through Readernaut. Now that I've stated it, I plan on keeping up with it!
I'd love to see how many people have read the book. Which movie version is your favorite? Please, let me know in the comments below or follow me on twitter here.
Happy Holidays!