Styrofoam Ornament
Posted on November 25th, 2009 by Sharon
This is continuing the series of tips, tricks, ideas, and how tos relating to this year's Christmas Craft Day. It will be held on Saturday, December 5th at Gangplank HQ from 10 am to 4 pm. Please, RSVP on Facebook. If you'd like to help fund this free community event, please click the donate button at the bottom.
The styrofoam ornament is one of the quickest and easiest of ornaments that I've done. To learn how to make your own you can either watch the eleven minute video or follow the steps listed.
Supplies
Styrofoam Ball (any size)
Cord-type ribbon (at least two spools for 2.5″ size ball)
Thinner ribbon for hanging loop
Hot glue
Straight Pin
Scissors
Video
Step by Step
Select the size ornament you want to create as well as your favorite cording. You will most likely need two spools so pick the same or matching colors.
Start with a dot of hot glue and poke in a loop of string so you can hang your ornament. This is now the top.
As close to the top as you possible, start with another dot of glue and a strait pin to hold the beginning of the cord in place.
You will spiral the cord around the ball and glue as you go. Make sure not to use too much because the styrofoam might melt and the glue would overflow. You do need to make sure the cord is secure.
Wrap and glue, wrap and glue.
Your ornament should look something like this: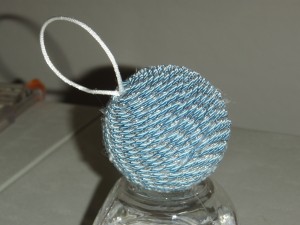 There are plenty of ideas to make each ornament better and unique. Have you tried this? How did it turn out? I'd love to know! Please, leave a comment below or follow me on twitter here.
Happy Holidays!