Glass Ornament. How I got creative with a mistake.
Posted on November 22nd, 2009 by Sharon
This is the beginning of a series of tips, tricks, ideas, and how tos relating to this year's Christmas Craft Day. It will be held on Saturday, December 5th at Gangplank HQ from 10 am to 4 pm. Please, RSVP on Facebook. If you'd like to help fund this free community event, please click the donate button at the bottom.
The Goal
I started with a large glass ornament with the intention of making a snowman family from my handprint so I could end up with something like this:
The Mistake
What actually happened, however, was the paint dried too quickly on my hand and did not leave a very good print. I painted my hand again and tried to lay my second try directly over my first. I hope you can imagine because it did not look very good.
The Fix
I was a bit frustrated so I set it aside to think about how I could salvage this ornament. I came back to it with more white paint and a 1/4 inch size paint brush. I generously applied paint to the brush and smooshed it against the glass ornament over and over again until the outside of the glass was almost covered.
Because there were still parts of glass visible, I thought it would look great with a dark, solid color as background. I went with Kelly Green.
To finish off the ornament, I took a couple of large red stickers that say "Merry Christmas" and applied them to the outside on opposite sides of the ball.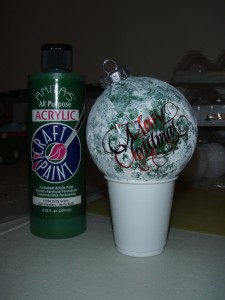 I love how this mistake turned out because the white on the outside looks a bit like the spray snow for windows and incorporates red, green, and a merry Christmas.
Do you craft? Have you tried ornaments this year? Any creative ways to turn mistakes into something great? Please, share with me in the comments or follow me on twitter here.
Happy Holidays!