Extra Gift Ideas
Posted on December 3rd, 2009 by Sharon
The Christmas Craft Day is THIS SATURDAY on December 5 at Gangplank HQ from 10 am to 4 pm. If you're interested in attending, please RSVP on Facebook. This is most likely the final tutorial for the craft day but look for a recap on Tuesday the 8th. This is a free community event but donations are welcome day of or through PayPal at the bottom of the post.
Paper Snowflakes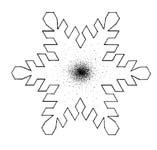 Special Gift
This is probably the most difficult craft to master but one that everyone wants to know how to do. To make a paper snowflake, you need a square piece of paper no smaller than 5×5, scissors, wax paper, and an iron.
Cut paper into a square with sides no smaller than 5″
Fold a square in half diagonally to form a triangle
Fold the triangle in half
Fold that triangle into thirds, one side toward the front, the other to the back.
Trim the extra paper off the bottom of the triangle.
All around the outside of the triangle cut out notches, diamonds, squares, narrow slits, and triangles. Make lots of cuts for a lacy snowflake, leaving some folds on both sides intact to keep the snowflake in one piece.
Unfold your triangle to reveal a six-sided snowflake!
Use the wax paper and iron to make your snowflake nice and stiff. Sandwich your snowflake between a piece of paper and a piece of waxed paper. Lay another sheet of paper on top of the waxed paper and iron on low heat to melt the wax onto your snowflake.
Peel off the wax paper right away, while it is still warm.
Voila! You should have a nice paper snowflake to hang or give. It definitely takes lots of practice (for me at least) to get it really good.
Magnet Gift
This is a very sweet, simple gift to put in a stocking or give to close friends. You'll need business card printer paper, business card magnets (both available at any office supply store), small decorative gift boxes, and the poem below.
This is a very special gift that you can never see. The reason it is so special is it comes to you from me. Whenever you are lonely, or even feeling blue, you only have to hold this gift and know I think of you. You can never unwrap it, please leave the ribbon tied, just hold the box up to your heart, it is filled with love inside.
Print the poem on business cards, formatted to fit the poem and little gift. Stick the business cards to the magnets and glue the miniature gift box onto the card.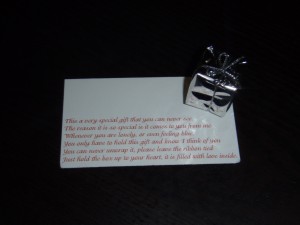 Snowman Poop
The last easy gift idea I have requires snack size baggies, marshmallows, and another clever poem.
I hear you've been naughty so here's the scoop: We're running low on coal so you get snowman poop!
I suggest printing that poem on business cards as well. There are lots of fun fonts to use and the size fits into the snack bag easily.
Print the poem; add it and a few large marshmallows to the snack bag and you're done!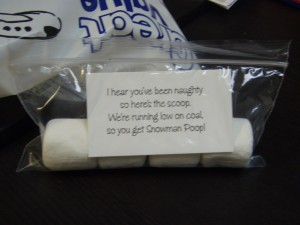 I do have the two poems formatted for Avery 5371 paper if anyone would like the files. I had trouble attaching them to the site but am more than willing to save you some time and work by emailing them to you. Feel free to leave a comment below or follow me on twitter here.
I hope that all of these ideas make the holidays easier and more fun for you and your family!
Happy Holidays!