Advent Calendar
Posted on December 1st, 2009 by Sharon
Most of the design blogs that I follow are getting into the holiday spirit. On a few of them, I've seen different ideas for advent calendars. I've always loved them and thought I'd add to the ideas out there. This is in continuance of my Christmas Craft Day related posts. CCD '09 will be held on Saturday, December 5th at Gangplank HQ from 10 am to 4 pm. Please, RSVP on Facebook. If you'd like to help fund this free community event, please click the donate button at the bottom.
My advent calendar idea comes from recycled Christmas cards. I found a couple of ways to turn old Christmas cards into small gift boxes. These boxes aren't useful for much more than jewelry, sweets, or personal messages; but I think those are great things to put inside an advent calendar.
I found a great how to on Instructables but you need a pro account to view the instructions in a less annoying manner. The basic idea is to tear the card at the fold so you have the picture of the card as the lid and the words of the card as the base. Trim the back of the card by just an eighth of an inch on each side so the two halves fit together well as a box. You can change the dimensions of your gift box by deciding how deep you want the sides. If you only need a shallow box say for a necklace or gift card, fold about a half inch on each side. It's important to measure so your base and lid are the same depth. After that, cut on the folds of the shorter side up to the point where it meets the fold of the longer side. Do this in every corner so you have four small cuts.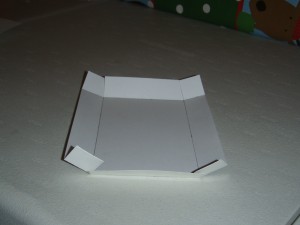 At this point, fold the single long flap over the two smaller flaps and tape the corners.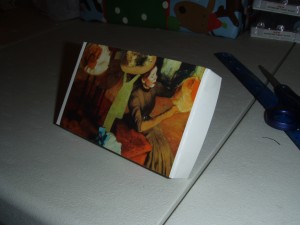 I estimated on my first card so the lid and base did not fit together like they should have. To turn it into an advent calendar have numbered stamps, stickers, or rub ons and be creative!
Some other ideas for this technique is to make ornament boxes. I made a couple from 12×12 scrapbook paper. I wanted the box to be 3x3x3 so I cut the total paper to be 9×9 and measured 3″ from every side. Don't forget to make the base a tad bit smaller so you're not trying to force them together. You can use the full 12×12 paper to make 4×4 boxes or get even smaller.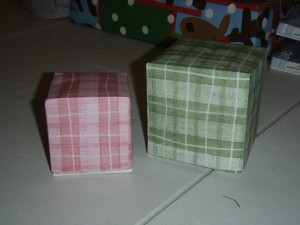 Do you have ideas on how to recycle greeting cards? Or maybe other simple treats to put in an advent calendar? I'd love to hear about them. Comment below or follow me on twitter here.
Happy Holidays!