Remember this Love
Posted on May 10th, 2011 by Sharon
Today's card is also a wedding card I made for a friend of mine. My mom didn't mention when her wedding was, but I'm sure it's safe to post the card. I decided to go a little more traditional with this wedding card but just as beautiful. I started with going through my folder of rub-ons to see if I could find a good wedding/love/couples quote. I found some white, flocked, family-themed iron-ons that were just begging to be used. The picture didn't really come out because it was white on white and backwards, but there were lots of phrases like together forever, cherish, love, etc. I wasn't fully satisfied so I kept looking through and found a black rub-on that said "remember this." I decided that "Remember this Love" was the perfect wedding day message because who doesn't want to feel that great in the years to come. I pulled out a white notecard for the card base and some red cardstock for the love iron-on. It took a while to get the iron-on to stick to the page but a little patience goes a long way.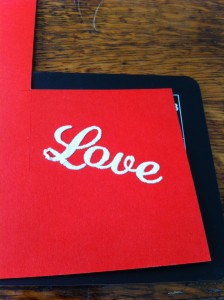 The next step was to trace a heart to the backside and cut out the shape. I had to make very sure I wasn't going to cut through my letters but I did measure before I ironed.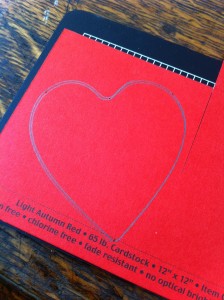 To add a little bit more glam to the card, I pulled out some silver foil stickers. I applied the stickers to the corners, lined up my rub-on and heart, rubbed, and glued. I left the inside blank so my mom could add her own message. I hope they liked it.