Grey Valentine
Posted on February 3rd, 2011 by Sharon
Grey has a bad reputation of being sad and gloomy. Although the cardstock I'm using is called Nor'easter, I think grey is soft and peaceful. I also pulled out some silver glitter paper, shades of pink, a doily heart, and my trusty v-day stamp.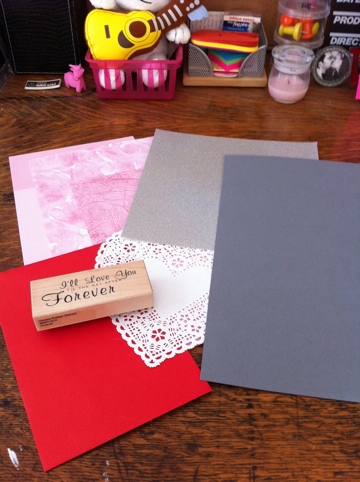 I wanted to see what my stamp would look like on the glitter paper so I tried it out.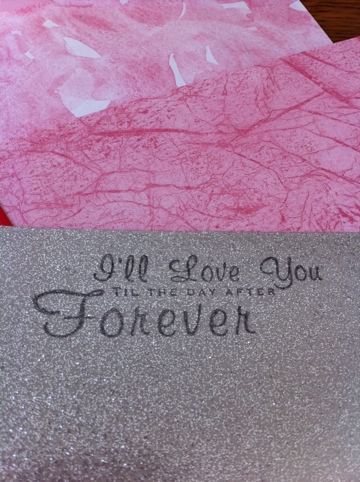 I don't know if you're interested in my thought process or just want to see what I did, but I'm going to hope for the former and share with you. After my black and gold valentine yesterday, I brainstormed some other non-traditional valentine's colors and came up with about a week's worth of ideas. I was feeling a little more traditional today so I pulled out my pink scrap folder first, and the heart doily was sitting on top so I grabbed that too. I then pulled out the silver glitter paper and remembered I had a grey scrap folder too. The Nor'easter cardstock was a better size for a card so I trimmed it down a bit and folded it in half. I also cut down the glitter paper to just be larger than the stamp. That's when I grabbed the different papers and started arranging, rearranging, cutting, and trimming.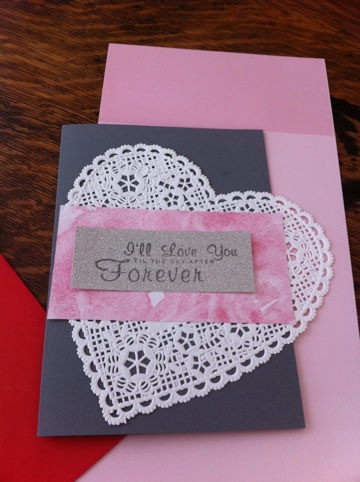 Even after I trimmed down the pink to be just larger than the glitter paper, I decided it was taking away from the heart so I removed it.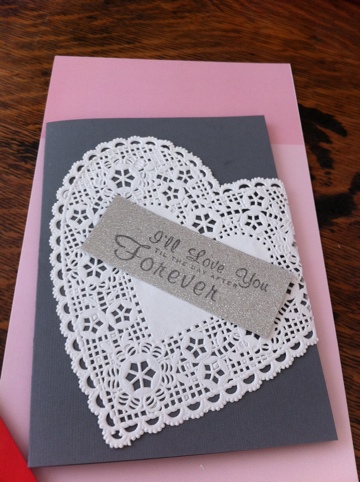 I thought even this was taking away from the heart and considered stamping directly onto the doily, but I really liked the sparkle of the paper so I decided to just trim down the paper even further.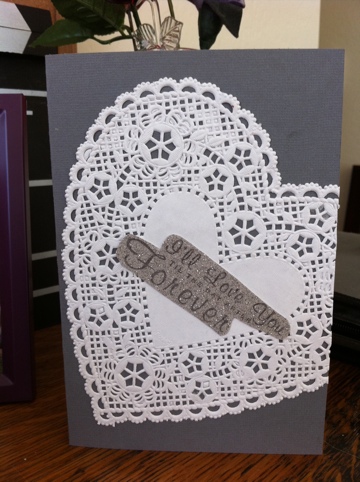 You know what they say, less is more. I definitely think it applies here. Purchase this card as part of the Love Set.