Colorful Wedding
Posted on May 9th, 2011 by Sharon
Hello, friends. Sorry for the radio silence last week, but I was putting my creative endeavors towards cards for friends and family. I needed to make sure the events passed before revealing the cards on the blog. The first card for this week was made for a friend I've known my whole life. She got married on April 30th so I'd like to say: congratulations, Angela and Benjamin.
I decided the best card would be something fun and non-traditional. I had the perfect card in mind which came from the cardmaking class from the scrapbook convention. Here is the picture guide.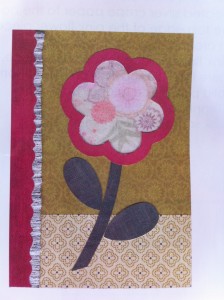 The middle of the flower actually shows the inside of the card. The class teacher told an anecdote about how her mother could put a picture behind the vellum to send to friends but soften her face. I decided to do something like that for my friends. Here are all the individual supplies I started with.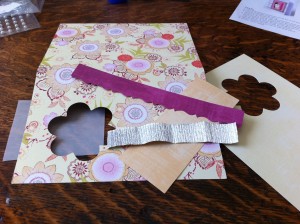 Since I was turning this card into a picture frame, I decided to turn it onto its side to make displaying easier. I also folded it with the fun flowers facing out instead of in. I didn't get pictures of my process, but I made the outside of the card similar to the guide picture. I used the plain yellow side instead of the side with little flowers on it. I used the purple strip and crepe along the fold just like the guide picture. I didn't do a stem for the flower but a single leaf. I used the purple die-cut to go around the outside of the flower to match the purple strip, and a sticker that says "celebrate."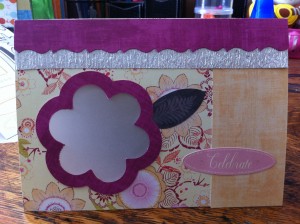 Now, if you look at the supply picture, there is a piece of yellow cardstock with a flower cut into it. This proved a very tricky piece to use once I modified the card from the guide. It wasn't really made to be folded with the flower side out. I decided that the flower cutout would be a good way to demonstrate that the card would double as a picture frame. It was pretty tricky cutting it down to size so it matched up perfectly to the vellum side of the flower. I finally did and mounted it with clear photo corners so it could easily be replaced with a square-cut picture. The green inside was a little dark for writing a message so I mounted the rest of the yellow cardstock to the other half of the inside of the card.
I wish I could have been there but hopefully they'll put a wedding picture inside the card and think of me!