Bon Voyage
Posted on February 20th, 2011 by Sharon
I got home last night and made this card but got very caught up in other things so I'm presenting it to you today.
During my shopping excursion to Michael's I replaced my broken eyelet setter tool so I decided I needed to learn how to use it. The reason you use eyelets is to make your punched holes secure. The reason you punch holes is either for brads or string/ribbon. String made me think of beads and a new travel pack made me think "bon voyage." Here are my starting supplies: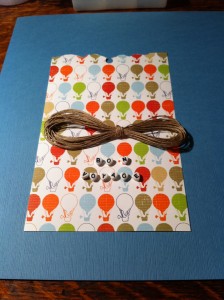 The Bazzil Basics cardstock is called Evening Sky, and I cut it down to fit inside a standard size envelope. I cut the hot air balloon paper down to give a 1″ border on either side and a .5″ border on the top and bottom, oriented horizontally.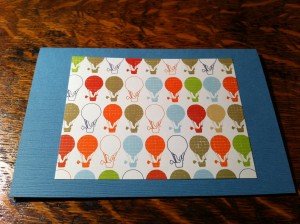 My next step was to punch the holes and string up my message. To keep the card neat looking, I tied the string behind the hot air balloon paper. That way once it was glued down, you won't see the strings.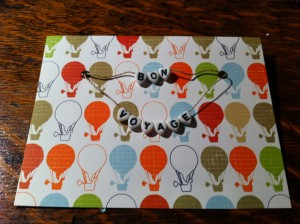 Here's everything glued down and ready to mail.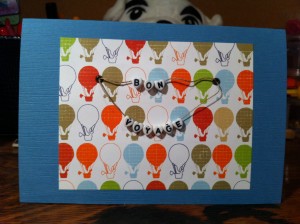 Purchase this card as part of the Travel Set.