Blue Paisley
Posted on February 21st, 2011 by Sharon
While I was working on something (to be announced soon) in my office last night, I discovered some small pre-made cards and envelopes that had come with a Christmas stamp set. I decided to make this week easy by using those cards and my growing stamp and ink collection. I started by pulling out everything non-Christmas related.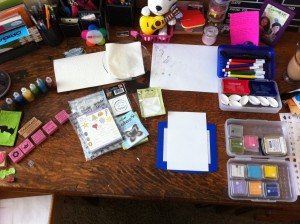 Quite a few of the supplies are new including markers that can be used to ink different parts of a single stamp so I spent quite a bit of time experimenting with that and some of my new ink pad colors. I got a new paisley stamp while at Michael's and decided that coloring it two tone would be a bit more work than I wanted today so I decided to go with my shades of blue.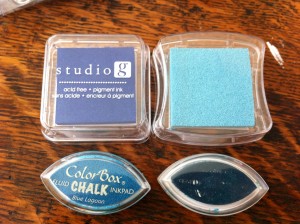 The top two are new. The one on the left is a pretty basic blue, and the one on the right is a nice light shade. The bottom two are Color Box Chalk Blue Lagoon and Deep Lagoon, which I have used before. I stamped very similarly to my "Thinking of You – Roses" card by inking once and stamping thrice. Here's how it turned out.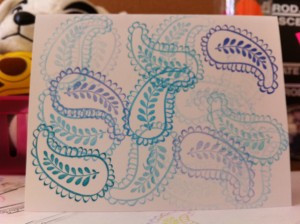 I plan on setting up a table this Saturday at the Rhino Caffe's Art & Craft Festival so I decided a little bit of "branding" is needed. Here's the signature now on all of the back of my cards.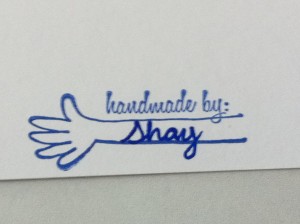 Purchase Blue Paisley to send a note just because.